Great Eats within Footsteps
If you love amazing food you are in the right neighborhood!  Some of the finest restaurants and local hangouts in the city are all within walking distance of the Metro Sound Apartments.  Enjoy a steaming cup of  coffee or grab a meal, all within a block or two of your new location.  You can find great meals from basic to extraordinary at places like Lyft, Quirk  , Max's, Saisson and Bar Solita.
And more about Food
Do you you love food and music festivals?  Every first Sunday in June our neighborhood hosts one of the largest festivals in Virginia. It occurs right out front of our building.  Over 5 blocks of Broad Street is closed and "Broad Appetit" takes over from 11am-6pm.  This annual early summer event has taken place every first Sunday in June for past 10 years. Featuring over one-hundred yards of local food vendors, two music stages (14 bands) and a cooking demo stage, this massive event has set attendance records of nearly  40,000 in a single day!  It's a family friendly event to benefit Meals on Wheels and the Central Virginia Foodbank (over $50,000 has been donated). Metro Sound coordinates all the stages and entertainment  for the event.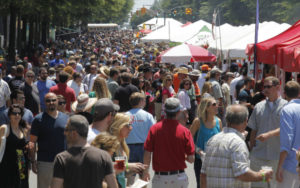 Next to City of Richmond Police Headquarters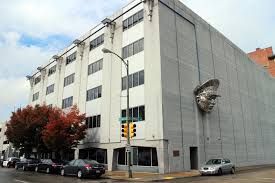 Just walk out your back door and look to the right and you will see the original metal artwork entitled the "Thin Blue Line".  This beautiful original work adorns the side of City of Richmond Police Headquarters at 200 W. Grace Street.
Downtown Living at it's Best!
Great restaurants, a 5 Star hotel, cool shops, thrift stores and lots of local merchants make this one of the  most vibrant places to live in Richmond.  And, if you like unique or vintage musical instruments you can check out our namesake on the first floor of the building,  Metro Sound.   Started by a VCU graduate long ago, Metro Sound has been a stalwart of downtown and the  Richmond music community since 1991.  Celebrities such as Joe Bonamassa,  Joe Walsh,  Gene Simmons,  Richard Gere,  The Stone Temple Pilots, Lynard Skynard, New York Dolls have all walked through the doors of Metro Sound during the past 29 years of operation.