Metro Sound Brings them Downtown
After 22 months of massive construction, the Metro Sound Apartments opened in  Septemeber of 2017. Located in the vibrant  Arts District of Richmond, this area is now a place to live and enjoy everything about Richmond.  The apartments are located above the stalwart pioneer music business, Metro Sound & Music.  A business that believed  in downtown and has been here since 1991,  Since its inceptions this first floor business has seen the likes of famous persons from Richard Gere, Joe Walsh,  Gene Simmons,  Timothy B. Schmidt (The Eagles) , Joe Bonamossa, Stone Temple Pilots' Rob Deleo, Allan Woody (Allman Brothers)  and more!  This 10 block downtown corridor has experienced massive renovation and investment over the past several years and has made a huge comeback.  It is now one of the most unique and desirable locations to live in  downtown RVA!  If you are looking for a unique and busy downtown location, with a Pulse Transit Station right out front, look no further, we think you may have found your new home with us!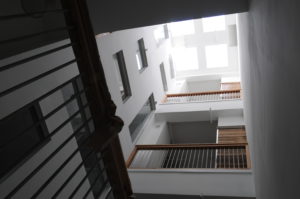 Two large atrium's have been cut into the center of the buildings which allows for lots of light throughout the center apartments.
Metro Sound & Music, a mainstay at 117 West Broad Street since 1991 has sold musical gear worldwide for over 29 years!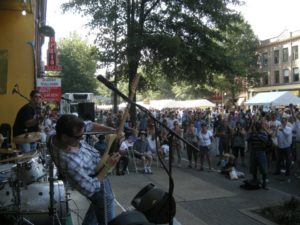 And, if you like a party?
The largest yearly food festival in Virginia is held right out your front door!
Broad Appetit Food Festival
That's right, If you love food and music festivals, one of the largest events in Virginia happens just out your front door!  "Broad Appetit"  has occurred yearly on the first Sunday in June since 2008.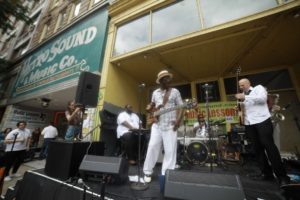 It's the largest food festival in Virginia, featuring over 100 entertainers and 100 food vendors featuring three entertainment stages. The festival takes place over a span of 5 blocks of West Broad Street between Belvidere Avenue  to Adams Streets.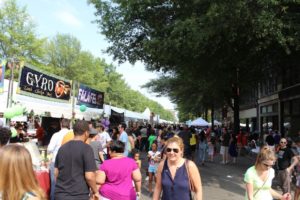 Broad Appetit attracts over 35,000+ patrons (in one single day) yearly and is  one of the biggest outdoor festivals in Virginia.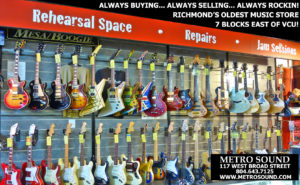 The apartments are named after long time downtown music retailer and first floor tenant, Metro Sound & Music Company.  Years ago, after many businesses had left the area, Metro Sound was one of the first businesses to locate back  downtown in 1991.  The Metro Sound Apartments are a beautiful downtown addition named in honor of a business that helped make downtown a destination location once again!
 Metro Sound has been promoting the neighborhood since 1991.
Location, location, location…
Surrounded by some of the finest restaurants and galleries in the city, Metro Sound Apartments offers one of the best walk-able locations in Richmond.   Both MCV and VCU are just minutes away by both foot or bicycle.  The City of Richmond Police Headquarters and the city's only Five-star hotel, The Jefferson Hotel,  are both your neighbors visible behind the building. When you leave the rear of the building you are right next door to the Richmond Police  Headquarters.